Yesterday, the NC Local News Workshop and NC Open Government Coalition hosted the NC News and Information Summit at Elon University. Across sessions on covering elections, understanding the digital divide, and researching Hispanic and Latino communities' news needs, conversations kept coming back around to power and equity, including:
Who gets paid to make the news?
In Jessica Mahone's recap of recent North Carolina journalism research, she highlighted that in a statewide newsroom diversity audit, 43% of journalists in North Carolina earn salaries below the North Carolina Budget and Tax Center's living income standard for the state ($50,000 for a household of two). Those low salaries limit who can work in news, as Eileen Rodríguez noted in a lightning talk about her experiences as a Report for America fellow at WFDD.
Who sets the agenda?
Jordan Wilkie and Laura Lee led a workshop to organize a statewide Citizens Agenda for North Carolina for the 2024 election cycle. The format is designed to root election coverage in an understanding of communities' top priorities and shift agenda-setting power from candidates to voters—though in a political moment when even local politics are a site for antidemocratic pushback, there are serious challenges to grassroots journalism.
Whose information needs get centered?
Carolina Public Press presented research into the digital divide and its effects on news access, which show a significant gap between Latino communities and other racial and ethnic groups in terms of both internet and news availability. In another session, Brenda Murphree previewed an upcoming report from the NC Local News Workshop on Latino and Hispanic communities' news needs in Western North Carolina. She found:
Trust is an obstacle to engagement with journalists
A notable preference for radio formats
The presence of Mam and K'iché language communities and a need for language access beyond Spanish
A network of informal community orgs and cooperatives providing information not traditionally recognized as journalism
In a panel discussion that followed, Paola Jaramillo of Enlace Latino NC and Alvaro Gurdiàn of La Noticia offered illustrations of how those findings play out in their own work, from Enlace's efforts to reach farm laborers through the nonprofit groups who know where they're living to La Noticia's ability to hold interviews with grieving families the Charlotte Observer can't reach after a construction accident. When a radio journalist in the room asked, "how can we help?" Paola's response was immediate—they could air the podcast Enlace Latino NC produces to reach a broader audience.
What role can journalism play in supporting a Third Reconstruction?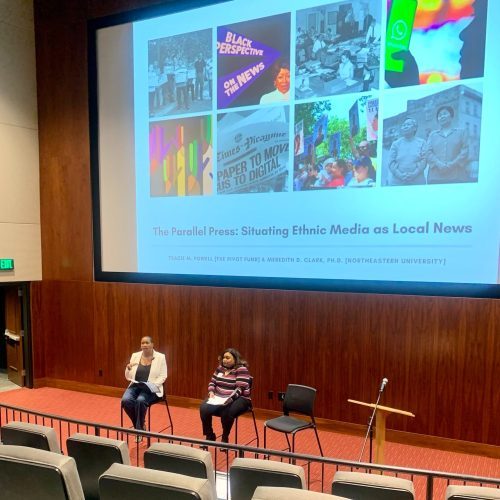 The day ended with a keynote conversation between Meredith Clark and Tracie Powell. Dr. Clark pointed to The Poor People's Campaign agenda for a Third Reconstruction, specifically its 14th point—the need for 140 million poor and low-income people to realize their political power—to reimagine how journalism should contribute to an equitable democracy.
In their research, Clark and Powell asked "How does the intervention of philanthropic funding impacts the health and sustainability of BIPOC-founded news organizations? And how have we misunderstood and fundamentally mischaracterized the landscape of local news?"
Clark described their finding that "our common understanding of local news often erases, or worse, instrumentalizes is what's commonly described as 'ethnic media.' It makes outlets that serve groups like Asian elders, day laborers and poor people impacted by environmental racism into convenient tools to burnish the reputations of funders and other new stakeholders, rather than providing those outlets with the critical support they need in order to build infrastructure and develop sustainably." The speakers called for journalists to join as active participants, rather than observers, of the work of building a media that's inclusive of outlets like Enlace Latino NC, that understands WhatApp groups and personal information networks as news sources within their fold.