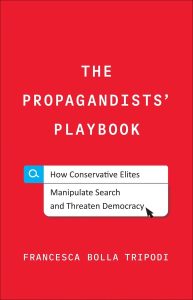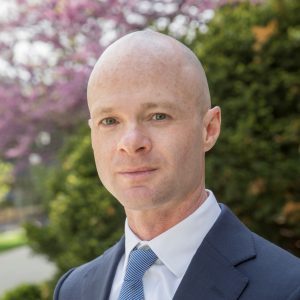 Thursday, September 22 at 3:00pm
Freedom Forum Conference Center, Carroll Hall
The Propagandists' Playbook peels back the layers of the right-wing media manipulation machine to reveal why its strategies are so effective and pervasive, while also humanizing the people whose worldviews and media practices conservatism embodies. Based on interviews and ethnographic observations of two Republican groups over the course of the 2018 Virginia gubernatorial race—including the author's firsthand experience of the 2017 Unite the Right rally—the book considers how Google algorithms, YouTube playlists, pundits, and politicians can manipulate audiences, reaffirm beliefs, and expose audiences to more extremist ideas, blurring the lines between reality and fiction. Francesca Tripodi argues that conservatives who embody the Christian worldview give authoritative weight to original texts and interrogate the media using the same tools taught to them in Bible study—for example, using Google to "fact check" the news. The result of this practice, tied to conservative marketing tactics, is more than a reaffirmation of existing beliefs: it is a radicalization of content and a changing of narratives adopted by the media. Tripodi also demonstrates the pervasiveness of white supremacy in the conservative media ecosystem, as well as its mainstream appeal, scope, and spread.
Dr. Francesca Tripodi is a sociologist and media scholar whose research examines the relationship between social media, political partisanship, and digital inequality. She is an Assistant Professor at the School of Information and Library Science (SILS) and a Senior Researcher at the Center for Information Technology and Public Life (CITAP) at UNC-Chapel Hill. In 2019, she testified before the Senate Judiciary Committee on how search engines are gamed to drive ideologically based queries. Her research has been covered by The Washington Post, The New York Times, The New Yorker, NPR, The Columbia Journalism Review, Wired, Slate, The Guardian and The Neiman Journalism Lab.
Dr. Victor Ray is the F. Wendell Miller Associate Professor in the Departments of Sociology and Criminology and African American Studies at the University of Iowa and a Nonresident Fellow in Governance Studies at The Brookings Institution. His research applies critical race theory to classic sociological questions. His work has been published in the Annals of Internal Medicine, American Sociological Review, American Behavioral Scientist, Annals of the American Academy of Political and Social Science, Contexts, Ethnic and Racial Studies, The Journal of Marriage and Family, Sociology of Race and Ethnicity and Sociological Theory. His work has won multiple awards, including the early career award from the American Sociological Association's Section on Racial and Ethnic Minorities and the Southern Sociological Society's Junior Scholar Award. Victor is also an active public scholar, publishing commentary in outlets such as The Washington Post, Harvard Business Review, and Boston Review. Victor's work has been funded by the Ford Foundation and the National Science Foundation.